Baba Boom 15+1 years Flying Platane (BE)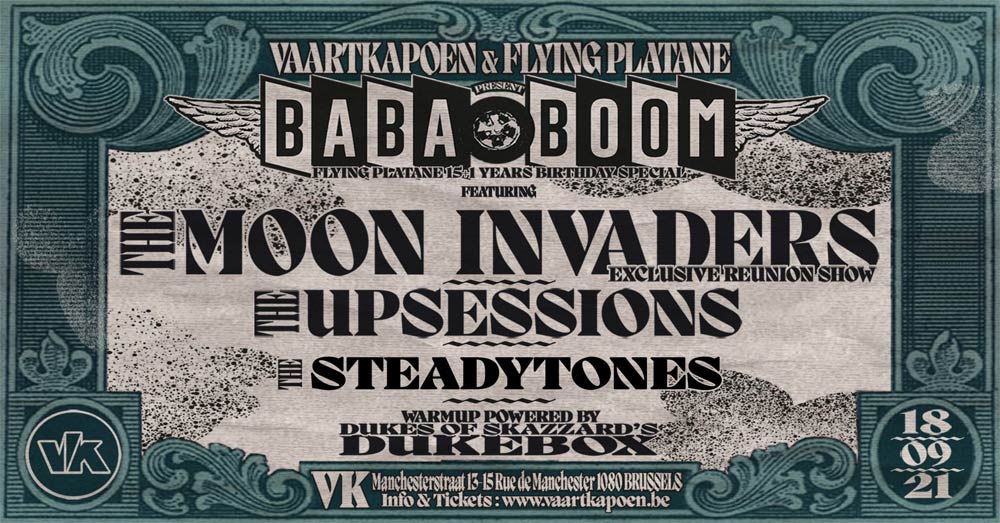 Flying Platane is growing to bloom as a majestic tree. 15+1 years ago, a great musical adventure started… well-rooted in the local scene, we have been bringing you skank & roll from all over the world.
This calls for a big celebration! A wicked gathering of amazing talent with The Moon Invaders, The Upsessions and 65 Mines Street!
The Moon Invaders (BE) – Exclusive reunion show
This nine piece combo rocked the stages of the whole wide world for years before sadly putting their instruments down in 2014. This homegrown Rythm'n'Blues fuelled Ska & Rocksteady band had us skanking to the bone with every show.. every single record they released… They have honoured us so damn much by agreeing to come back together to celebrate our birthday with you in Brussels where it all started. Prepare yourselves for a one and only reunion show of The Moon Invaders!
The Upsessions (NL)
BOOM… Here they are! Sharp-dressed, infectious, including an unbelievable organ sound and incredible stage performance. Since 2005 the Upsessions have played all over Europe. Playing early reggae, ska, funk, Calypso and soul. After releasing their first album 'The New Heavyweight Champion' on the legendary Moon Ska label, the Upsessions immediately played on Europe's best reggae and ska festivals like Germany's This Is Ska festival, Potsdammer Skafestival, and Spain's Rudecat festival in Girona.
The Steadytones (DE)
The Steadytones are Bavaria's hottest early reggay combo, two albums strong they also have been touring Europe for years with Jamaican legends such as Keith & Tex, Stranger Cole or Rudy Mills ! We are very happy to have them complete our line up one more time !
The Dukes of SKAzzard
Get ready for ska, rocksteady, early roots on a beauty of a homebuilt sound system.
Finally, the selectors from Flying Platane Sound will be there too, joined by some good old friends!