Reasoning Session #3: Creativ Dubs & Roots Explosion | 't Landhuys, Gent | 01-04-2022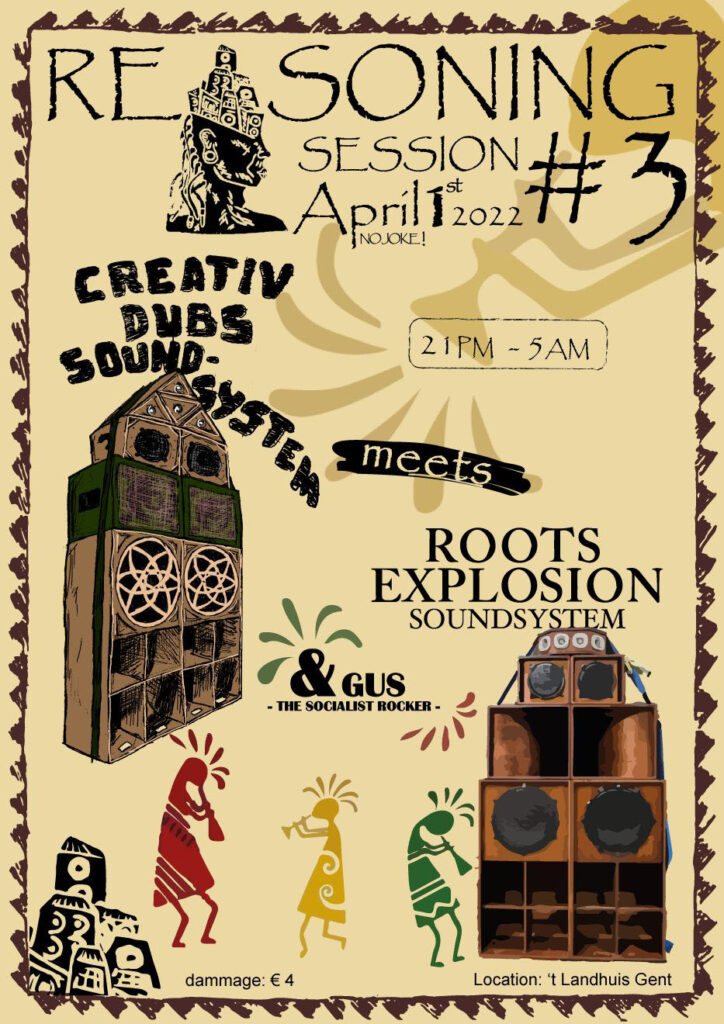 Reasoning Session: Roots Explosion is a soundsystem crew from Bruges, Belgium that was founded during the summer of 2016. The group consists of four selectors and some people behind the scenes who have been friends for a long time and are connected through their love for reggae music. Roots Explosion is playing roots and culture music, dubplates and homemade productions for each and everyone! The crew is committed to spread positive vibrations along with the right message through their handmade soundsystem.
Roots Explosion selector DT also hosts his biweekly Reggae Excursion Radioshow on Villa Bota radio, based in Bruges.
Utah Militant and Cantula Vibes work hard on a daily basis and spend a lot of time in the studio producing their own music and creating their own style.
You might know them from their session called 'Circle of Roots' in JH Comma venue in Bruges
In late 2018, Roots Explosion finished the building of their first soundsystem stack. In 2021 they worked hard on improving the soundsystem. With her new mid- & top section she sounds twice as pure!
They will bring 2 scoops to the (small but big enough) venue so heavy vibrations promised!
GUS -'The Socialist Rocker
GUS is another selecta from Bruges with a wonderfull collection of roots/rock/reggae. They will join the line up spreading positve vibrations and messages with his selection. This one can't be missed!!
CREATIV DUBS
The music comes from the loving heart & the message comes from the conscious mind~
As a little extra for the postponing of this session first planned on 20 March 2020 we will bring a 2 scoop stack of our own soundystem as well! Our brand new hand- & homebuild soundsystem is born during the pandemic times of 2021 but we've been building and planning since 2019. Presicly build she will provide some heavy & deep bassline along with the right amount of hihats.
The selectors of the Creativ Dubs-family will be present with a strong foundation roots selection, some uplifting dubs and some serious steppers along with own production! They started their vinyl collective around early 2018 and the collection kept growing. We look forward bringing the soundsystem to Ghent for this Reasoning Session.