Roots & Culture | 3 Soundsystems | Zappa, Antwerp | 05 NOV 2021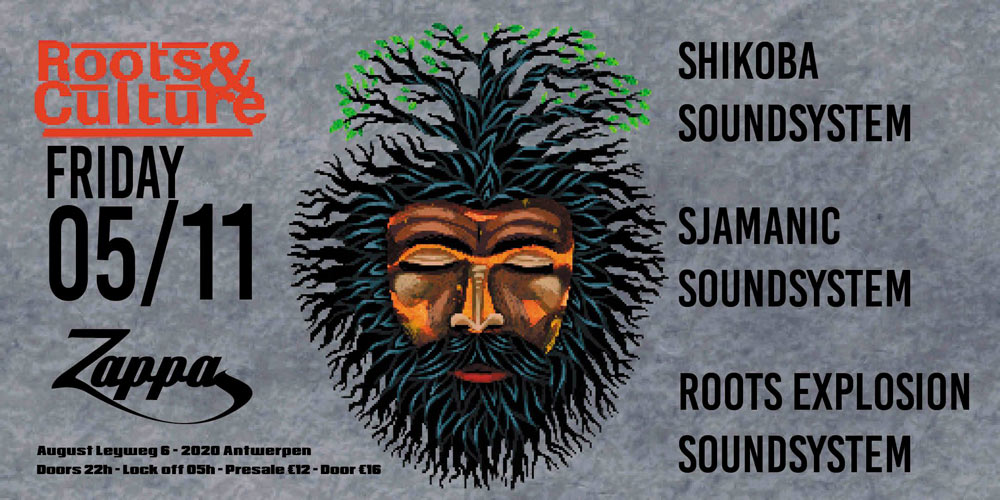 Roots & Culture – 3 Soundsystems in the Area – The Hard Way. Something to look forward too!! IF! We have to put IF… This dance will only happen under normal circumstances. No bubbling, sitting thing! Friday November 5th we invite three Soundsystems from Bruges. Sjamanic, Shikoba and Roots Explosion! All three on their own Soundsystem. 4 Scoops each. They are well known in the Bruges area but never played in Antwerp and never played all three together in the dance. We can be sure they will prepare their best Dub, Roots & Steppers for this one. Musical shower guaranteed! We hope to meet all of you @ Zappa! vvk €12 – adk €16.
Line-up
Shikoba Soundsystem is a Bruges based crew, running since 2017. They aim to spread the message of love, respect and togetherness through reggae and dub music, in a soundsystem style and fashion. Shikoba means "I do good so I am good, and therefore I exist for you". With this philosophy they try to create a healthy environment for the mind and body for all the people attending the session. The last 2 years they linked up with sounds, crews and producers like Jah Works, Jah Free, Crucial Alphonso, Echo Vault, Unlisted Fanatic, Gamma Sound, Wise Rockers, Roots Workers Soundsystem, Mbegu Soundsystem, Sjamanic Soundsystem, Roots Explosion Soundsystem, Dub Up HiFi, Youth & Truth, Kingstep Soundsystem, Asfaw Soundsystem and many more. Expect deep roots music covering the whole spectrum, from foundation till nowadays Dub from the highest regions.
Sjamanic Soundsystem
– The Dub Magicians -, founded in 2016 with one goal in mind:
"teach the youths about the real truths and help create a better reality for tomorrow."
This roots rebel sound has a heavy focus on uplifting roots music with lyrical guidance. As music and dance are the oldest shamanic rituals, they try to create a vibe in which growth and healing are implicitly present trough the means of word, sound & power.
In the past years, they have hosted plenty of sessions and sound meetings and have completed the ranks with the likes of Dan Imperial (Imperial Sound Army), Forward Fever, Ras Tinny, Mbegu Messenjah Soundsystem, Asfaw Soundsystem, Youth & Truth Soundsystem, Alpha Steppa, The Rootscorner Soundsystem, Satta Soundsystem, Dub-Up HiFi, Shikoba Soundsystem, Terra Soundsystem, Roots Explosion Soundsystem and such.
Soundsystem Crew
Roots Explosion
is a soundsystem crew from Bruges
,
Belgium that was founded during the summer of 2016. The group ks connected through their love for reggae music. Roots Explosion is playing roots and culture music, dubplates and homemade productions. Playing for each and everyone, with the emphasis on playing their soundsystem. Like their predecessors used to do in the golden days of reggae music, when rub-a-dub riddims reigned the dance hall.