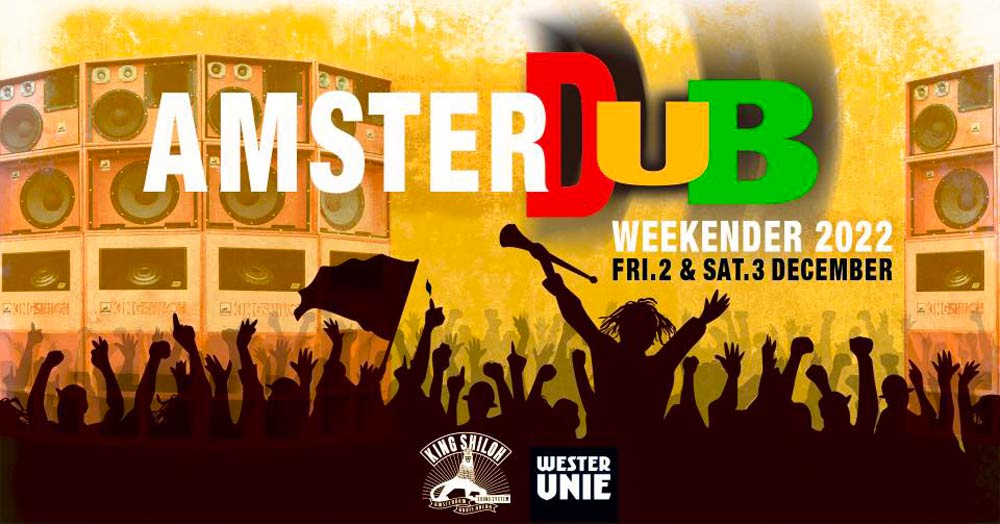 Forward Ever, Backwards Never… Family, were overjoyed to announce the return of the AMSTERdub Weekender in 2022!
Despite the disappointment of last years forced cancellation, were fired-up & ready to go again this year… 2 bombastic days of the very best in sound system culture in one of Amsterdams' top venues, the centrally situated Westerunie in Wester Park.

Inspired by Jah & organised by The Healing of the Nations sound King Shiloh, in their fantastic home town. Be assured, the vibes will be of the highest grade and the international guests top class.

So come together brothers & sisters, in Peace Love & Unity, celebrate our amazing culture in the best way possible, together. All roads lead to Amsterdam on Friday 2 December & Saturday 3 December.

FRIDAY 2 DECEMBER
> Family Friday <
HEALING THE NATIONS
artists to be announced

SATURDAY 3 DECEMBER
> Skanking Saturday <
RUBBIN THE DUB
artists to be announced

TICKETS
There will be both Single Day (Friday or Saturday) & Weekender Tickets (Friday & Saturday combined) available. The first limited amount reduced price Early Steppas Tickets (Single Day and Weekender) will be on sale from Monday 19 September. When they're finished Steady Rockers Tickets will be available at a slightly increased price. The final full price tickets will be the Better Late Than Never" Tickets when all other options are sold out. 
FB: Amsterdub Weekender 2022 >