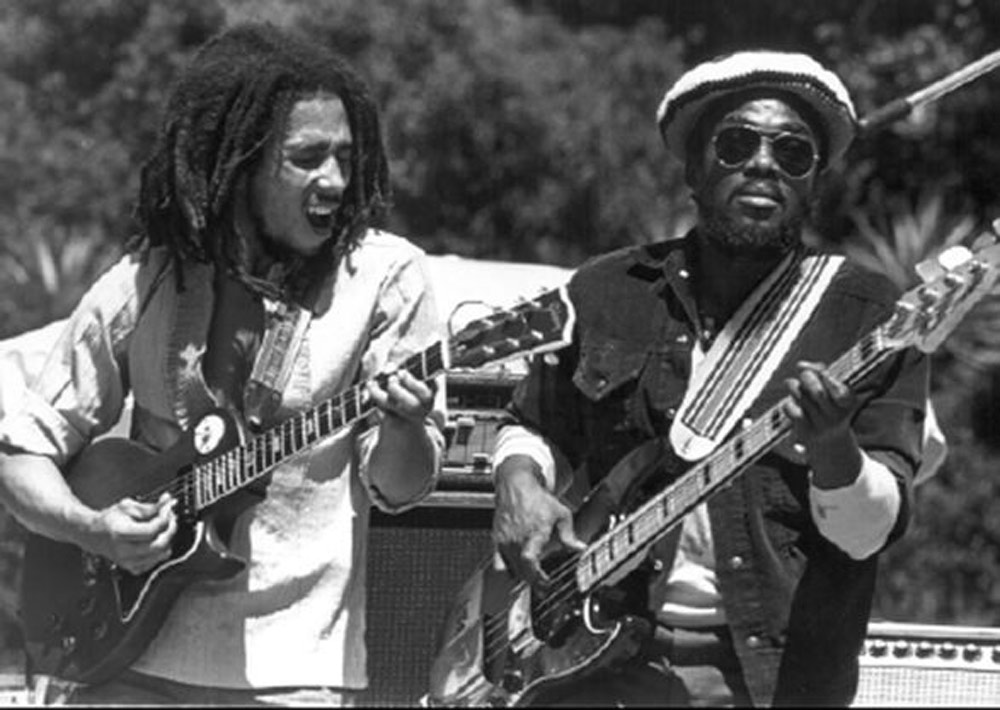 Aston Familyman Barrett – One-half of the Barret brothers. "Family Man" had a profound impact on my approach to reggae. Playing bass, and the art of finding a line that matched the groove, enhancing it but never overshadowing it. I was about 18 years old and restless. Restless to play roots reggae. I'd already been in a variety of local bands playing blues, ska, and rock but I was mesmerized by roots reggae and wanted to learn it, play it and be part of this musical scene.
That's when I connected via a newspaper ad seeking a bass player for a Bob Marley cover band. I knew Marley's music and jumped at the chance. The leader and main musician of this trio was Bernie J (we were the Bernie J and the Galaxy Band). He was a Bajan guitarist and singer whose hallway into his house was a wall of speakers. Aston Barrett owned everything needed to put on a show. He rarely laid his guitar down and became a mentor to this young blond-headed kid. I should mention the third member of this trio was Leroy. Leroy is an older Jamaican drummer who was never without a half-smoked spliff in his mouth. He drove a BMW, and was filled with laughter.
"This was my education on how to play reggae bass, my teacher."
Playing with these two felt like a door had opened and I entered a world where this music I'd listened to for so long was now right in front of me and I got to be part of it. The first order of business was to learn about 30-40 Marley songs – from Concrete Jungle to Pimper's Paradise and every hit in the Wailers catalog – and learn I did. I sat in my room with all the songs on cassette and meticulously hit the pause, rewind, and play sequence over and over until I knew these songs inside out, from memory, and could play them in any order.
Shape a bass line
This was my education on how to play reggae bass, my teacher, Aston "Family Man" Barrett. I learned how to lay back (lag) the lines. I learned how to shape a bass line. And I learned to find the pocket where it not only pushes the groove forward but enhances the entire song. "Family Man" is an incredible musician and when you listen to his bass lines, they are little melodies within the song – think Pimper's Paradise and "So Much Things To Say" or they could be the bedrock. Unshakable and unwavering as you hear in Natural Mystic.
"Family Man" alongside brother Carlton "Carly" Barrett helped define and shape generations of musicians, including Robbie Shakespeare, he was also co-producer for many of the Wailers albums as well as the bandleader. Pictured in the photo is my original Vantage bass my parents surprised me with at age 11 when I first began playing. It's the bass that I learned on all the Marley cuts, played with on live gigs, and recorded with until about 1999/ 2000. It remains on the wall as a tip of the hat, a moment in my life that unbeknownst to me, would play a role in who and what I would become.
By: Dubmatix
More: Dubmatix blogs