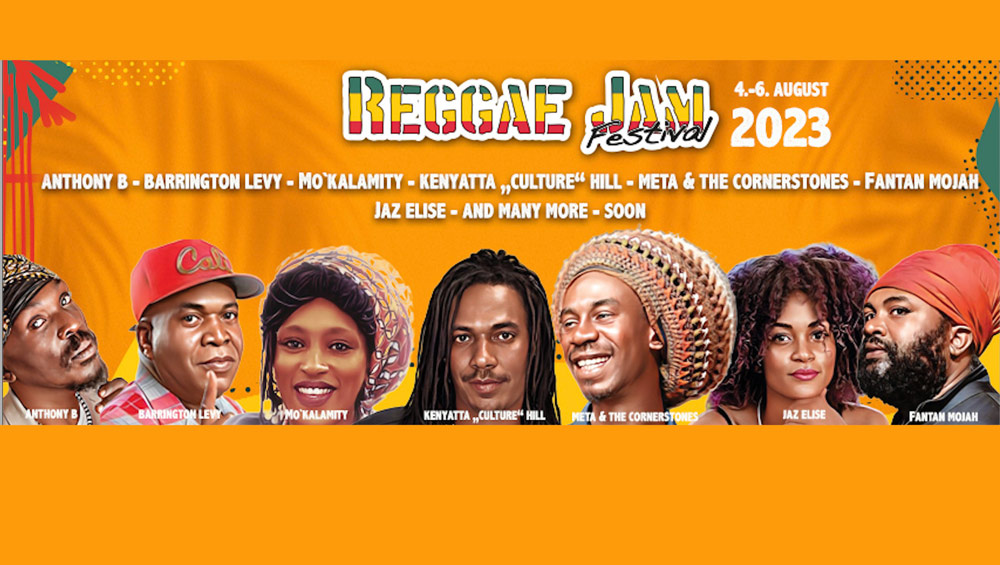 De organisatie van het Duitse Reggae Jam Festival in Bersenbrück heeft de eerste namen bekendgemaakt voor de Reggae Jam 2023 line up. Het festival zal wederom plaatsvinden in het Klosterpark. Anthony B, Barrington Levy, Mo'Kalamity, Kenyatta Hill, Meta & The Cornerstones. Jaz Elise en Fantan Mojah zullen hun opwachting maken deze zomer. Het festival vindt dit jaar plaats in het weekend van 4-6 augustus.
Eens per jaar wordt het kleine stadje Bersenbrück in Nedersaksen de hotspot van de internationale reggaescene. Begin augustus maken fans van over de hele wereld een tocht naar het kloosterpark. Daar maken zij deel uit te maken van het populaire reggaefestival. Twaalf keer op rij is de Reggae Jam door de lezers van het belangrijkste en grootste Europese genremagazine "Riddim" uitgeroepen tot nummer één van de beste festivals.

Tot 15.000 fans genieten vreedzaam en zorgeloos van hun favoriete muziek. Direct achter de poorten van het stadje wordt een weiland een provisorische tentenstad. Een festival van de zintuigen en het hoogtepunt van de zomer voor veel locals en nieuwkomers. Of je nu uit Londen of Groningen, Hamburg of Limburg komt. Voor fans en vrienden van het Caribische geluid is Reggae Jam een must. Van zwart tot wit, van jong tot oud – iedereen is hier welkom en iedereen voelt zich op zijn gemak.
REGGAE AGENDA: Reggae Jam Festival 2023 | Bersenbrück, Germany
WEB: Reggae Jam line up 2023
FB: Reggae Jam Festival (Official Site)