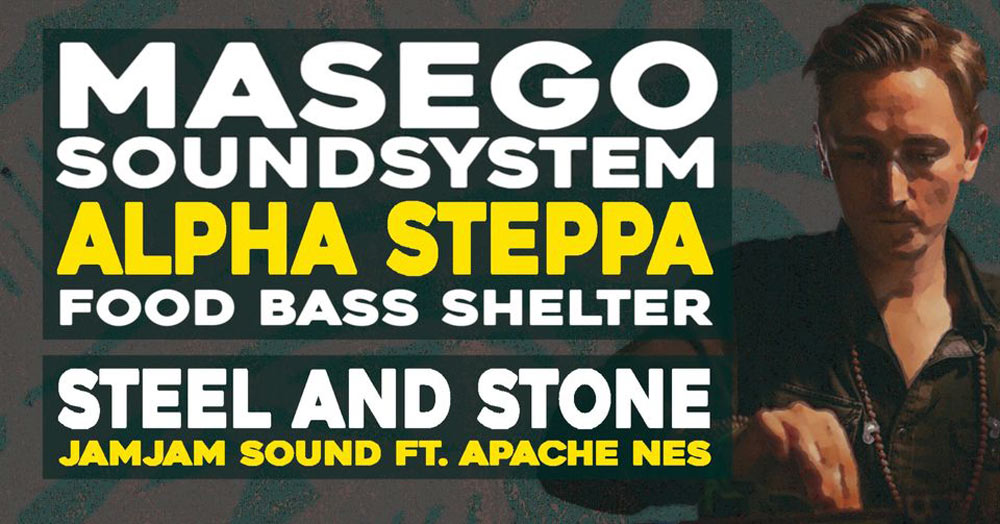 Another exciting session is coming up! Together with the great team of Zen Social productions we decided to continue the 'extended sessions' with band and soundsystem as we started it last year. So make up your mind for a long evening and night full of uplifting and spiritual music. We are very happy with this perfectly balanced and great line up!
Our headliner of the night is no one less than the mighty Alpha Steppa! Ben Alpha is not only famous for his powerful live performances, but probably also one of the most productive producers in the current dub scene. His riddims and very own sound can't be missed in dances all over the globe. As a member of the 'Dub Dynasty collective' – a collaboration with his father and his aunt Alpha & Omega – and at the head of the famous Steppa Records label, Ben grew up in the middle of true sound system culture. No doubt this man knows how to handle a dance!
We are also very happy to announce our headliner for the evening! Steel and Stone is one of the finest Roots Reggae bands from Rotterdam and with their warm meditative sound and versatile style a real pleasure in a live show. The band was founded in 2016 and build around lead singer Brantley MacDonald. After powerful performances on Reggae Lake (nl), One love festival (uk) and Oerol festival (nl), they are ready to rock the stage in WORM. Currently they joined forces with our friend Ras Ejah and we are very curious to hear this new collaboration. The evening will be supported musically by Jamjam sound ft. Apache Nes, both members of the former Apache Sound from The Hague.
The warming up for the night program will be done by the beloved crew of Food Bass Shelter soundsystem! The crew consists of Iskander and Serge, both much respected selectors in the Dutch scene and well known for their unique selection style and rare vinyls. For years Food Bas Shelter was the residence sound of the monthly 'Dub in the Vinger' soundmeetings, and played with almost all crews and sounds from the Netherlands. Experienced as they are, Food Bass will definitely turn the dance hot!
Evening + night: 15 euro (band plus soundsystem night)
Night: 13 euro (soundsystem only)
Doors open: 20.00 hr – end: 6.00 hr.
FB: MASEGO SOUNDSYSTEM. ALPHA STEPPA, STEEL AND STONE, FOOD BASS SHELTER
Blessed love,
Zen Social & Masego Soundsystem