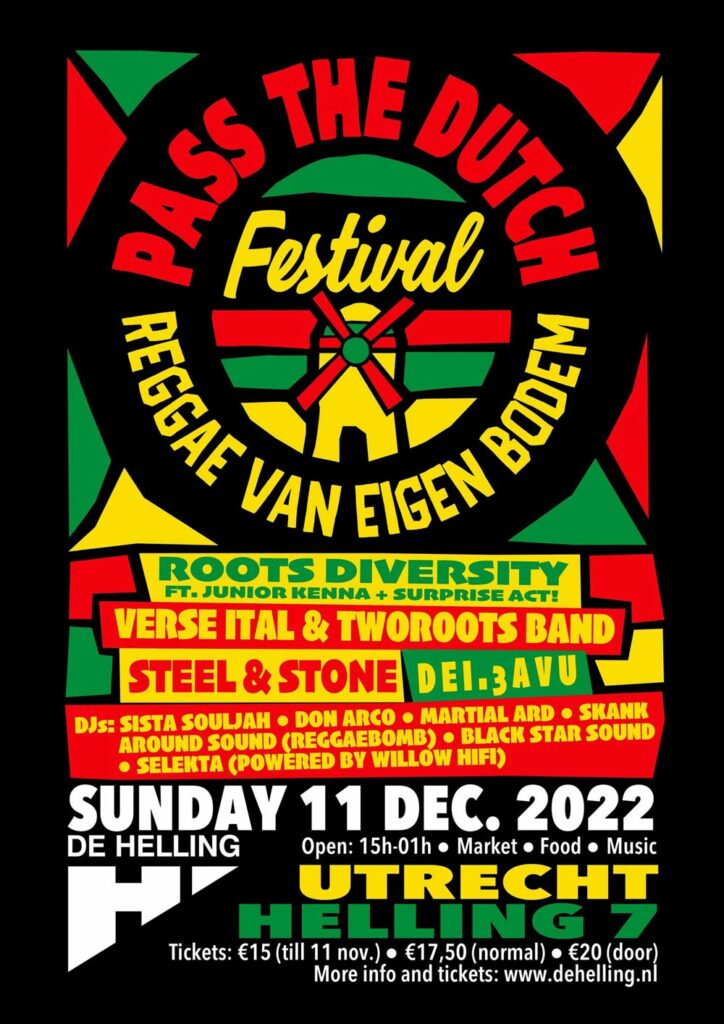 De organisatie van Pass the Dutch festival heeft een nieuwe datum gevonden. Het festival werd eerder tweemaal uitgesteld maar vind nu doorgang op zondag 11 december. Pass the Dutch vindt ditmaal plaats in de Helling in Utrecht. Zoals je gewend bent zullen er meerdere lokale en regionale reggae bands en DJ's optreden. Roots Diversity ft. Junior Kenna + Surprise act, Verse Ital & TwoRoots Band, Steel & Stone, Dei.3avu zullen het podium betreden in de Helling. Het festival begint om 15.00 uur en eindigt om 01.00 uur. Naast muziek is er natuurlijk ook een gezellige markt en lekker eten.
Pass the Dutch: "Door omstandigheden is dit evenement al 2 keer verplaatst (van zondag 3 april naar zondag 15 mei 2022 en nu op zondag 11 december)! Excuses voor het ongemak, gekochte kaartjes blijven natuurlijk gewoon geldig."
Pass The Dutch is een initiatief van een aantal Nederlandse Reggae bands. Zij vonden het tijd voor een nieuw gezellig mini-festival. Een reggae festival voor de echte Reggae liefhebber. Live muziek, DJ's, een dik soundsystem en Caribisch eten! Volg onze website voor meer informatie over de line-up en kaartverkoop.
DJ's: Selekta (powered by Willow Hifi), Black Star Sound en alle Reggaebomb DJs: Sista Souljah, Don Arco, Martial Ard en Skank Around Sound!
Website: Pass The Dutch Festival – De Helling >
Facebook: Pass the Dutch festival Utrecht >
Reggae Agenda: Pass the Dutch Festival >