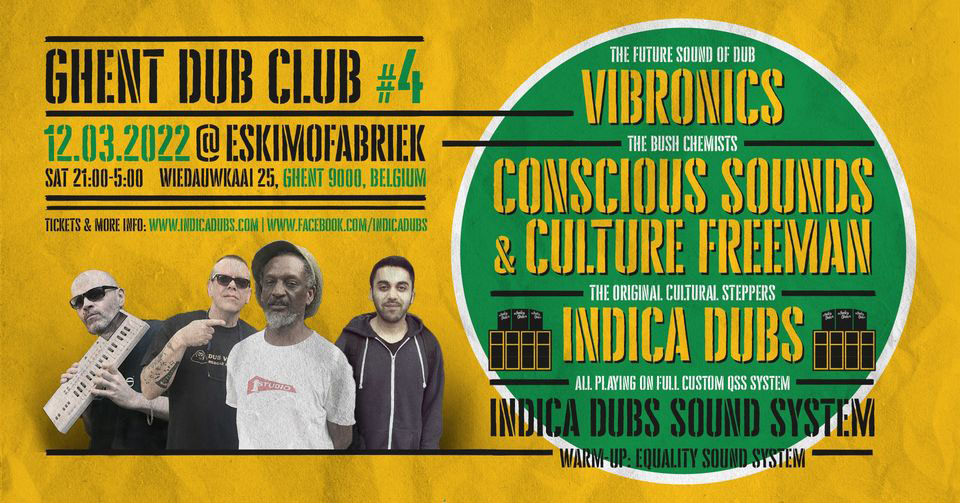 The fourth edition of Ghent Dub Club, proudly welcomes VIBRONICS, CONSCIOUS SOUNDS, CULTURE FREEMAN, and INDICA DUBS in the dance! All to play on INDICA DUBS SOUND SYSTEM – unleashing the brand new fully custom QSS system for the first time!Inviting the UK Dub legends; Vibronics and Conscious Sounds – pillars of the golden 90's Dub era, developing a perfect habitat for the new generation of Dub producers – the likes of Indica Dubs carrying the torch!
VIBRONICS (UK)
Majorly responsible for blasting the bass vibrations since 1996. Their musical developments have been at the forefront of the UK Dub scene ever since. A portfolio consisting of 70 releases on their own legendary SCOOPS label, an ever-growing list of albums, singles and remixes on a myriad of other labels. The works never stop! Building a career within the walls of the Dub Cupboard Studio surrounding himself with the greats like Michael Prophet, Earl Sixteen, Macka B, Big Youth, and an almost endless list of Dub & Reggae luminaries. Whether dub-mixing live on stage, rocking the sessions or uplifting the festivals, Vibronics continue to perform limitlessly across the globe loved by many and all!
CONSCIOUS SOUNDS ft. CULTURE FREEMAN (UK)
UK Dub pioneers since 1989: responsible for paving the foundation of today's Dub scene over the decades. Impossible to overlook the infinite amount of music of their hand. No Dub collection or catalogue is really compelling without Conscious Sounds productions. Spread over their own Conscious Sounds label and numerous other record labels. Consistently putting out music and providing musical guidance and inspiration for many in the past, present and future! Conscious Sounds aka The Bush Chemists have been touring across the world since the 90's. Even before most countries had a big sound system base – breaking the boundaries by performing on stages!
Joining him will be the great Culture Freeman. He is known for his unique style whether chanting or spoken-word, his impact has spread long and far. It's impossible to not know his classic hits; "The Fittest" and "Light Up Your Spliff"! There is a lot to say about their hugely influential legacy, a must-see for every dub head! Freeman has also featured on a handful of Indica Dubs releases, no doubt he will be on fire all night!
INDICA DUBS + FULL SOUND SYSTEM
During the previous edition we celebrated the 10-year anniversary of the Indica Dubs label. An established household name in the Dub genre, Sukh started producing his own tunes by the age of 18. While on his journey and because of strong work ethic, connections were built up with the greatest talents of Conscious Sounds, Vibronics, and The Disciples. Providing an ideal creative and educational environment and limitless source of influence. Indica Dubs has been continuously dropping release after release after…
Creeping closer to 100 vinyl releases and producing some of the toughest releases. Classic session anthems and providing a range of heavy dubplates to his most influential sound systems. Collaborating with some of the best international Roots / Dub artists; it's safe to say his reputation at the forefront of the Dub scene has deep and ever-expanding roots all over the world. Most importantly preserving and maintaining the old school traditions every step of the way. You can be assured to hear fresh new unreleased and exclusive Dubplates live at this session!
EQUALITY SOUND SYSTEM (B)
Coming all the way to Ghent Dub Club from the East side of Belgium: The young Limburg-based talents; Equality Sound System will be starting off the night with a strong warm-up selection to get the vibes going! Founded in 2015, worthy of the name 'Equality' as every crew member is equal – box boys also select, and selectors are also box boys. Being a passionate group of music collectors, they began playing events using a second-hand set of speakers and boxes, steadily building their own full sound system over the years. We look forward to hearing their killer Roots selection!
Bring ID: this event is for 18+ (bring ID // no ID = no entry)
Tickets: €15 + B.F (only available from www.indicadubs.com/shop, or message Indica Dubs to arrange Bancontact)
Door: €20 (limited, as long as available)

To ensure everyone's comfort and safety inside Ghent Dub Club there's a limited capacity. To guarantee your attendance, we strongly suggest purchasing a ticket.