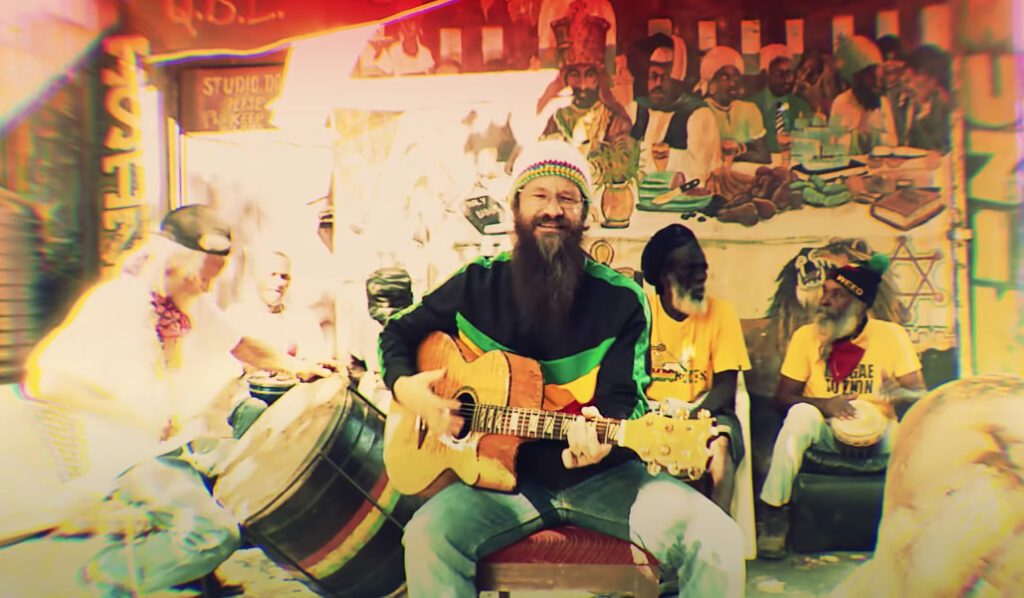 Groundation – Original Riddim ft. Israel Vibration & The Abyssinians
Lead Vocals : Harrison Stafford, Lacelle Bulgin, Cecil Spence, Bernard Collins, Donald Manning, David Morrison Lyrics/Guitar/Percussion : Harrison Stafford
Backing Vocals : Alreca Smith, Brady Shammar
Lead Guitar : Eduardo Gross
Drums/Percussion : Zach Morillo Bass : Isaiah Palmer
Piano/Organ/Melodica : Matt Jenson Saxophone : Roger Cox
Violon : Liana Berube, Mathew Szemela Viola : Ivo Bokulic
Trombone : Jeff Cressman
Trumpet : David McKissic
Lyrics
Ancient form of communication
Through times of sorrow and celebration
Before man walked and talked about
They formed a union where no tribe was left out
You are not left out
So, who a come up with the original riddim?
The heartbeat and the human voice?
Open up the heavens of possibilities
Expanding our minds into infinite degrees
So, the melody you choose
May bring health and strength to you
While others can destroy and some will renew
The powers inside of you, who knew?
In its purest form it's magic
Everlasting and fantastic
Out of Africa with word, sound, and powers
Through Persia, Europe, India, and China
So, who a come up with the original riddim?
The heartbeat and the human voice?
Open up the heavens of possibilities
Expanding our minds into infinite degrees
Woo yeah!
When you check roots and culture
We bring it straight from Africa
Reggae music that we playing
Rastafari we praising
So, no one can take my pride
Israel Vibration is my life
From the foundation a Rasta
We pass it on to the future
So, with every situation
I-yabinghi man him have the plan!
Musically yeah, we all are the family tree, yeah
In our DNA show, yeah, Africa family, whoa
Ancient form of communication
Through times of sorrow and celebration
Before man walked and talked about
They formed a union where no tribe was left out
You are not left out
So, who a come up with the original riddim?
The heartbeat and the human voice?
Open up the heavens of possibilities
Expanding our minds into infinite degrees
Oh, look into the history
Oh, look into the history, yeah!
Music a come from a long time ago
Music a come from a long time ago
Long before religion the music did flow
Long before the language the music was found
Causing man to go on ship to prove the Earth was round
From the sea up to the sky man he searched all around
For the sound, the sound, the sound, the sound, the sound, the sound, the sound calls him
Groundation – Original Riddim ft. Israel Vibration & The Abyssinians