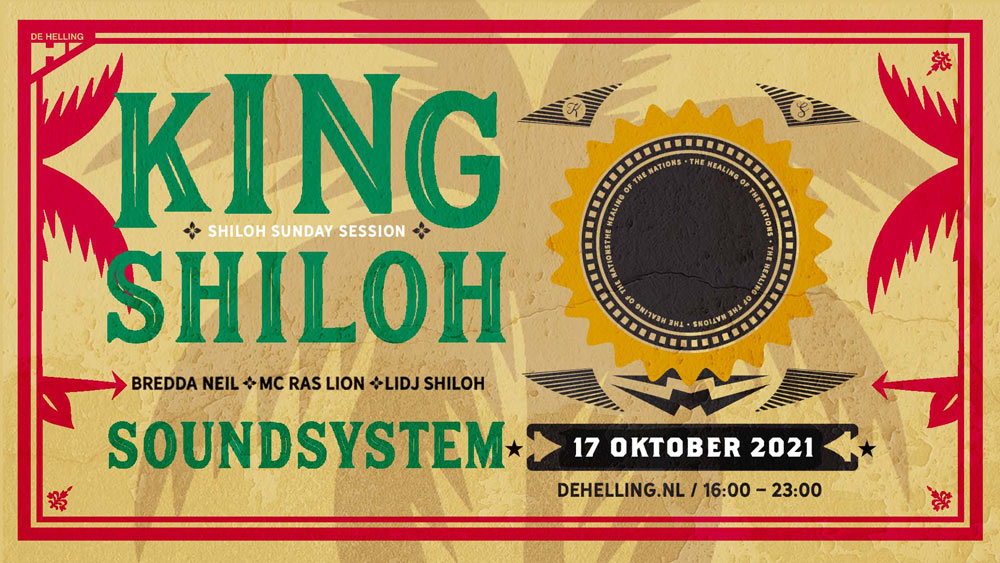 King Shiloh is terug in De Helling te Utrecht voor een Sunday Session. Deze sessie vindt plaats op zondag 17 oktober en begint om 16. 00 uur. King Shiloh Sound System is terug van nooit weggeweest en neemt een karrevracht aan dubs en subs mee. Ze verspreiden de blijde boodschap van Jah Rastafari op allerlei plaatsen en manieren, maar toch het liefst op de dansvloer met vette dub. Verwacht wapperende broekspijpen, dj's, mc's, singers/chanters en heel veel speakers om die diepe bassen lekker te laten zoemen!
King Shiloh Sound System is een internationaal opererend Sound System uit Amsterdam, opgebouwd rondom de uit Londen overgewaaide Bredda Neil. Afgelopen jaren deden ze onder andere Dekmantel Festival, Reggae Geel, Dub Camp en Reggae Lake aan, tourden ze door Ethiopië, Mexico, Colombia en Canada en organiseerde ze hun eigen AmsterDub weekender. Hoog tijd om ze weer naar De Helling te halen dus, dit keer op een zondag! JAH BLESS!
Klik hieronder op de quote en lees ons interview met Bredda Neil over Ethiopie
King Shiloh Soundsystem Festival in Ethiopia. Blessed, Ones & ones came from all continents. To rally round the red, gold &green. From all corners of creation. No matter what race or creed. Like-minded ones came together to celebrate in peace love & unity. It's our destiny… it's about hearing the call, the call coming from the mountains of Zion. And about heeding that call, and feeling a need to be part of this mystical movement.
King Shiloh Soundsystem, De Helling, Utrecht