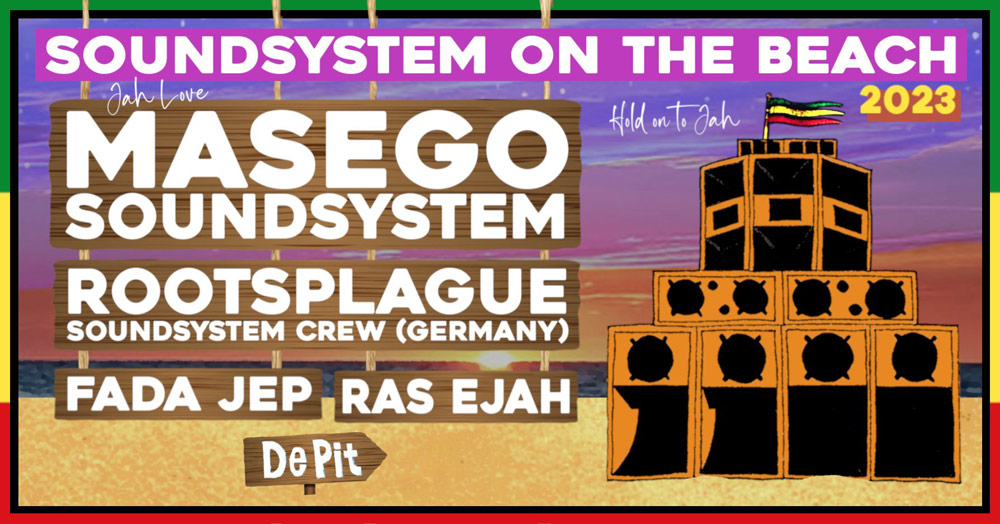 Masego soundsystem returns to the beach! For those who attended last year and for those who had to miss the magic: August 19 we'll join forces again with the great team of beachclub THE PIT to gather around our soundsystem. With the skanking feet in the warm sand and the nurturing breeze of Jah music we'll celebrate love and life during a beautiful sunset!
This year we have an exciting line up. We are very happy to announce the return of our beloved friends of ROOTS PLAQUE SOUNDSYSTEM from Munster Germany. The great family crew, well known for their tough dubplates and steady sessions, surprised us many times. What a pleasure to meet up musically again. Amore!
Our second guest is no one less than FADA JEP! This veteran roots selector is a versatile artist who has been playing Jah music for decades. As the founder of the famous Crucial Sounds and later Krackfree Soundsystem, solid member of the Dubhoven crew and host of Drop the Biscuit radio show, Fada Jep can safely be called a true mainstay of the Dutch soundsystem scene. It's definitely time to welcome him in a Roffadub session!
Last but not least we complete the line up with our great friend and chanter RAS EJAH. Steady and calm as always, this Rasta is spreading his conscious message loud and clear and gives thanks and praises to H.I.M. every day and dance. A true blessing to uplift the energy together.
THE PIT is a lovely beachclub in 'S-Gravenzande and the perfect place for a dance, serving great food, drinks and easy vibes. The awesome team is well known for their hospitality and warm welcome.
Wow! Our dream continues, Jah provides! What a joy to be back and to share this moment with all of you. We can't express our gratitude enough. Are you ready?!
One beautiful love,
Masego Soundsystem

FB: Masego Soundsystem on the Beach