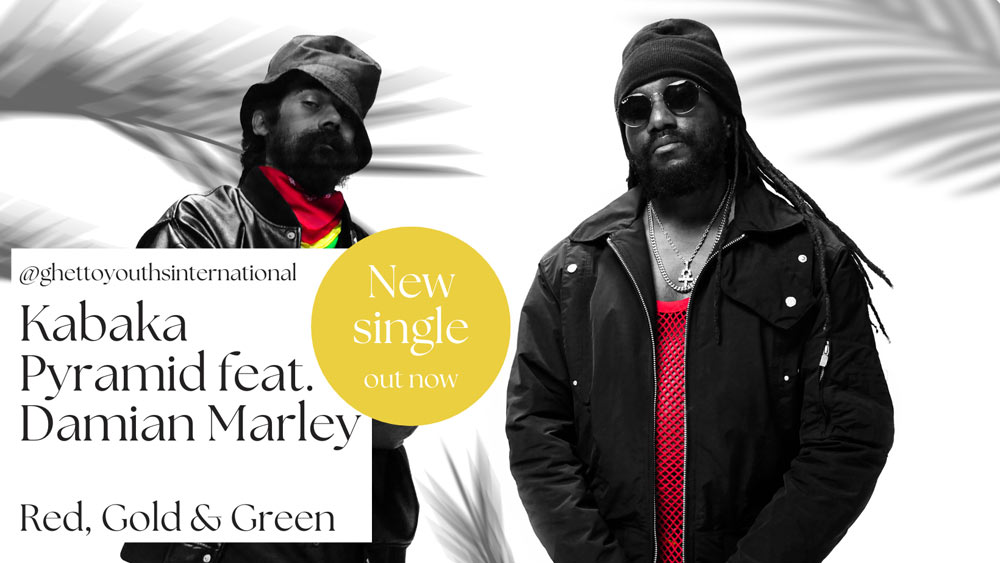 "Kabaka Pyramid and Damian "Jr Gong" Marley link on new single "Red Gold & Green" in ode to the colors of the Rastafari tradition"
Red Gold & Green three colors, which signifies so much to so many. For Kabaka Pyramid and Damian "Jr Gong" Marley it was worthy enough to unite their musical synergy. Unite to highlight the significance of the colors to Rastafari tradition and Reggae music. Just released today, "Red Gold & Green" is brimming with the nuanced context often missing from the message. This missing context is remarkably packed into immaculate verses for which both artists are well known. Not only is Damian Marley featured, but he is also the producer of this single.
From the well harmonized chorus, the infectious reggae rhythm, and the insightful verses, this song is a continuation of the quality music Ghetto Youths International and Bebble Rock are famous for.
"Red Gold & Green is really getting at the root of the Ethiopian flag as a symbol of Rastafari globally and what it really means from our perspective, the ones who live it, and what it means to carry this message through the music" says Kabaka Pyramid. While Kabaka talks about the musical aspect and the significance of maintaining the tradition despite changing times, Damian Marley compliments it with an equally lyrically potentverse. They deliver a poignant and important message about authenticity and reminds us of the identity of the tradition. While the order is tall, and the goal of the authors is lofty, this track delivers in its approach. It educates without confounding; it elaborates without meandering but most commendable is that it does not spare the often-missing connections between cultures.