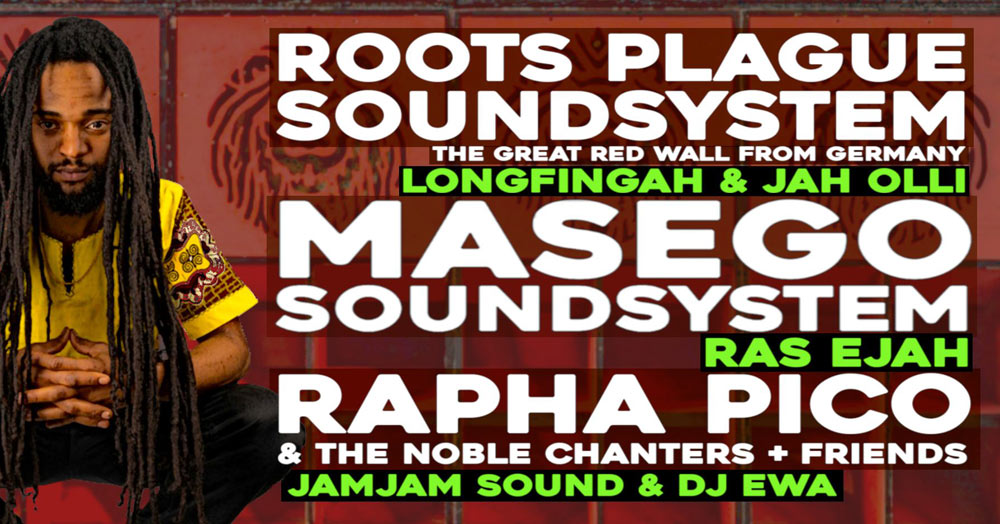 ROTTERDAM – One of the things we learned from the recent past is that we should never take our prosperity for granted right? Our wealth and opportunities are a vulnerable blessing in a turbulent world, and for that reason they need to be shared with those who need it the most. That's why we thought it is time again to organize a fundraiser session to support the children of Yawenta Children's center Ethiopia. So on the 30th of september we present you an even bigger line up than before with a live band, lots of chanters and selectors and even TWO SOUNDSYSTEMS in one big charity dance! Masego Soundsystem and Roots Plague Soundsystem together in Worm, Rotterdam.
For the evening we invited Rapha Pico and the Noble chanters. Famous for his golden voice and neverending positive vibes, Rapha is one of those singers that breathes Roots music. Rapha has a discography full of beautiful songs and together with the Noble Chanters and friends, he will definitely surprise you in his live show! Dj's for the evening are Dj Ewa and Jamjam sound.
Roots Plague Soundsystem
For the night we'll meet Roots Plague Soundsystem aka 'The great red wall'. Our beloved bredrins from Münster will bring in their hand-built soundsystem, so expect bass pressure all the way massive. The hosts of the great Reggaejam Dubcamp area already came to WORM in 2017 and those who attended know Roots Plague sound will heat up the dance for real. This time they bring the talented Jah Ollie (DE) and Longfingah (DE) on microphone.
To complete the line up we will bring Ras Ejah into the dance. We are very happy this conscious chanter is joining us again with his unpolished message about Rastafari. Once you hear you know!
Evening + night ticket: 15 euro
Night ticket (from 23.30): 12 euro
Doors open: 20.00.
Mark the date and don't be late. Let your heart speak and help us support the amazing children of Yawenta! Blessed love, Masego Soundsystem
Facebook: MASEGO SOUND, ROOTS PLAGUE SOUND, RAPHA PICO & THE NOBLE CHANTERS + MORE | Facebook >
FB: Masego Soundsystem Worm >