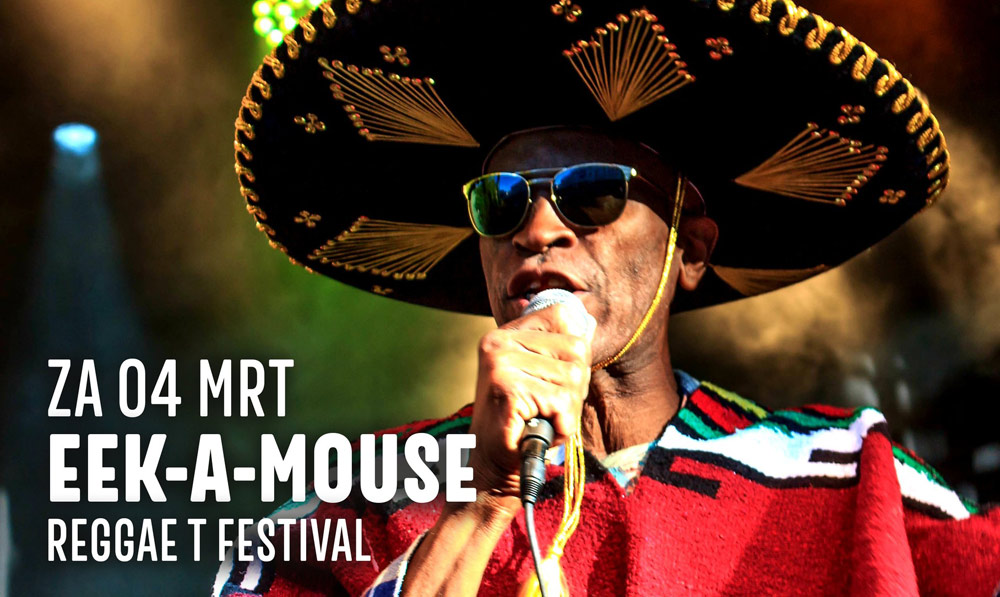 Een avond vol Reggae in T, dat noem je dan natuurlijk Reggae T. Het Reggae T Festival is terug in Gebouw-T te Bergen op Zoom! De aankomende editie staat gepland voor zaterdag 4 maart. Niemand minder dan 'Jamaican legend' Eek A Mouse is aangekondigd als hoofdact. De kaartverkoop is donderdag 8 december begonnen. Er zullen nog meer artiesten aangekondigd worden dus hou onze site in de gaten voor meer informatie.
Vanaf de eerste minuut dat je Eek A Mouse hoort weet je het zeker, hem ga je nooit meer vergeten. En waarschijnlijk herken je hem al wel van zijn unieke vocale stijl. Deze herkenbaarheid komt deels door zijn nasale, hoge stem, maar ook door zijn 'biddy beng-beng, biddy meng-meng'-scatting. Wat Eek A Mouse echt boven de grotere laat stijgen is niet alleen zijn stem, ook zijn melodieën en muziek zijn weergaloos.Eek A Mouse is bekend van hits, zoals: 'The Freak', 'You are the one that I need' en 'Wa-Do-Dem'. Een must-see als je van reggae houdt.

Gebouw-T is het poppodium van Bergen op Zoom en omgeving. Met concerten van (inter)nationale topartiesten, dance-events, festivals en meer.
WEB: Reggae T – Eek-A-Mouse – Bergen op Zoom
FB: Eek A Mouse // Reggae T Festival