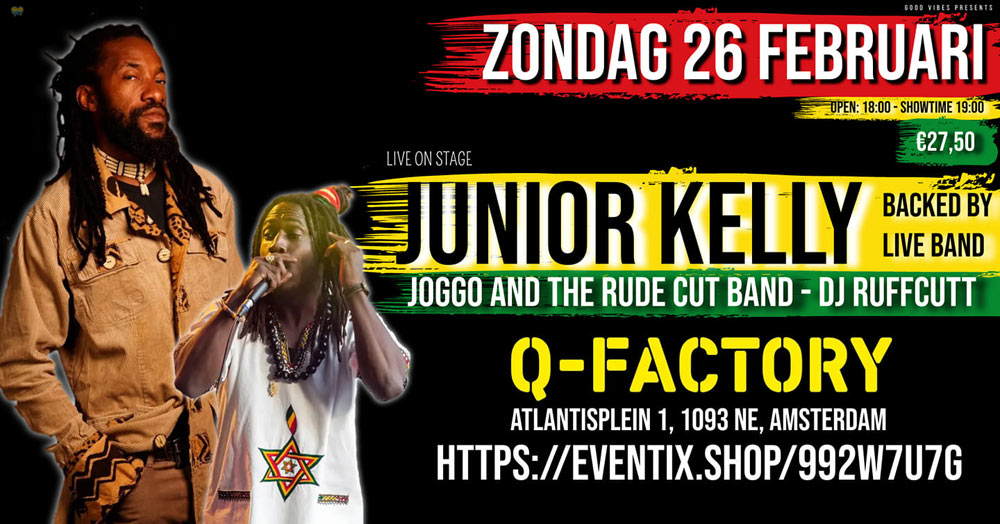 Op zondag 26 februari is het weer tijd voor een nieuwe editie van Good Vibes Live. Voor deze editie heeft de organisatie niemand minder dan Junior Kelly geboekt in de Q-Factory te Amsterdam. Junior Kelly zal samen met een live band een knallend optreden verzorgen. Als support-act kijkt Good Vibes Live binnen onze eigen landsgrenzen. Joggo & The Rude Cut Band zullen optreden voorafgaand aan de show van Junior Kelly. De muzikale omlijsting tijdens deze avond zal worden verzorgd door DJ RuffCutt.
Junior Kelly (JAM)
Junior Kelly draait al een aantal decennia mee in de reggae-scene. Sinds zijn debuut heeft hij een opeenvolging van hit singles en verschillende albums uitgebracht. Junior Kelly is een van de vele Jamaicaanse zangers die rootsreggae een impuls hebben gegeven. Onder andere door zijn mix van oude reggae en nieuwe dancehall perfect in elkaar over te laten lopen.

Joggo
Joggo is een zeer getalenteerde roots reggae zanger uit Amsterdam. Hij is geboren in 1980 als Jurgen Orville Seedorf. Joggo had een zeer mooie voetbaltoekomst voor zich. Zo speelde de zanger bij Ajax en Real Madrid. Hij besloot echter zijn ware liefde achterna te gaan. Hij wou reggae muziek maken en de boodschap verspreiden. Met optredens op grote festivals als SummerJam en ReggaeJam is dat ook aardig gelukt. Deze zondag is Joggo en zijn Rude Cut Band de support act tijdens het Good Vibes Winter festival in Amsterdam!
Lineup
JOGGO AND THE RUDE CUT BAND
JUNIOR KELLY + BAND (JAM)
DJ RUFFCUTT
Junior Kelly Q-Factory Amsterdam
Doors open 18:00
Voorverkoop €27,50
FB: Good Vibes Live | Junior Kelly (JAM) | Joggo
Enjoy REGGAE MUSIC and lets make it sweet!!