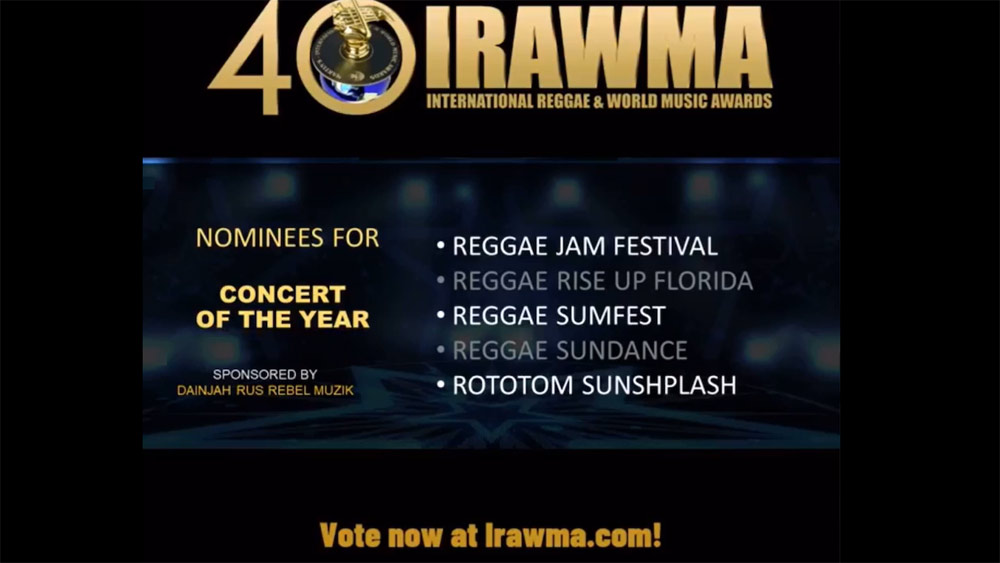 Reggae Sundance is genomineerd voor de International Reggae & World Music Awards. Sundance is genomineerd in de categorie 'Concert of the year'. De andere genomineerden zijn: Reggae Jam Festival, Reggae Rise Up Florida, Reggae SumFest en Rototom Sunsplash. Je kunt Reggae Sundance steunen door te stemmen via irawma.com. De International Reggae & World Music Awards, of IRAWMA, is een jaarlijkse muziekprijsuitreiking die de prestaties van muzikanten in de reggae- en wereldmuziekgenres viert. De IRAWMA, opgericht in 1982 door Martin's International, is een van de langstlopende prijsuitreikingen gewijd aan reggae en wereldmuziek.
Elk jaar eert de IRAWMA artiesten, producers en andere professionals uit de industrie voor hun bijdragen aan de muziekindustrie. De prijscategorieën omvatten onder andere Beste Mannelijke Vocalist, Beste Vrouwelijke Vocalist, Beste Album, Beste Nummer en Beste Muziekvideo. De genomineerden en winnaars worden gekozen door een combinatie van stemmen van fans en een jury.
Een van de unieke aspecten van de IRAWMA is de focus op het herkennen van internationaal talent. Hoewel de prijsuitreiking plaatsvindt in Jamaica, komen de genomineerden en winnaars van over de hele wereld. De IRAWMA probeert ook de diverse culturen die reggae- en wereldmuziek beïnvloeden, waaronder Afrikaanse, Latijns-Amerikaanse en Caribische muziek, te promoten en te vieren.