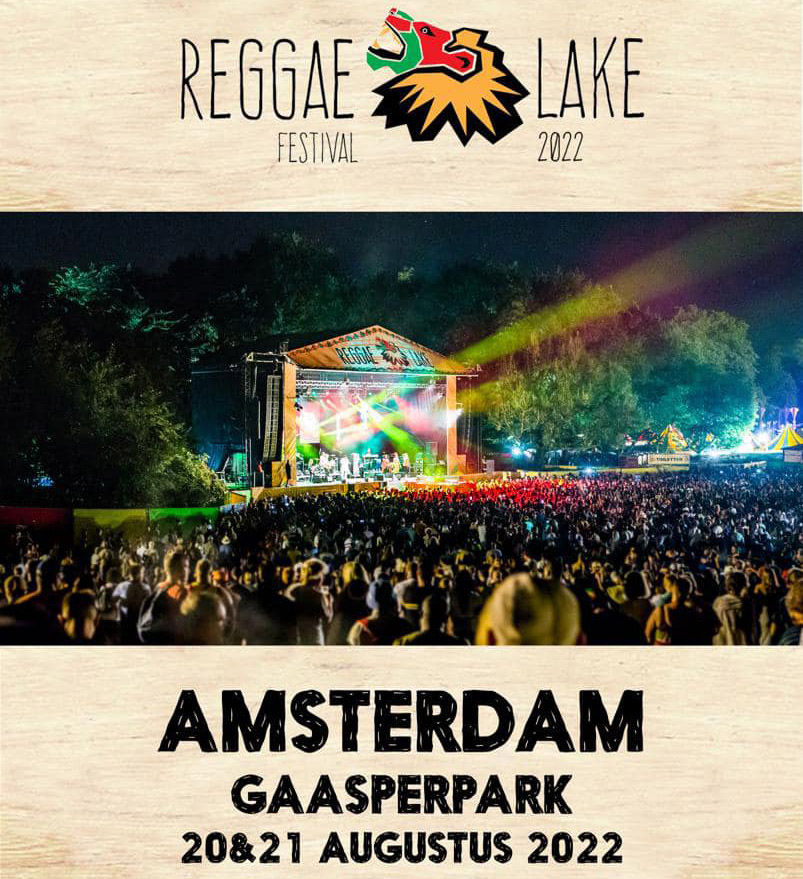 Na twee jaar afwezigheid is Reggae Lake Festival weer terug deze zomer! Het festival vindt plaats in het weekend van 20 & 21 augustus 2022 in het prachtige Gaasperpark in Amsterdam. Reeds gekocht tickets voor de editie in 2020 blijven gewoon geldig.
De overige kaarten zullen binnenkort in de verkoop gaan. Inmiddels zijn Morgan Heritage, Koffee en Sean Paul bevestigd voor aankomende editie in 2022. De lijst van artiesten zal komend tijd nog verder aangevuld worden. ReggaeLake festival kennende zullen er nog wel een paar internationale topacts bijkomen!
Belangrijke informatie:
Openingstijden: opening hours
Zaterdag & zondag 13:00 – 23:00
Lockers
Er zijn lockers te huur bij de entree
Lockers are for rent at the entrance
Parkeren / parking
Er is geen parkeerplaats. Dus we raden aan zoveel mogelijk met openbaar vervoer te komen. Bij metrostation Kraaiennest is beperkte parkeergelegenheid. There are no parking lots . limited parking space is available next to metrostation kraaiennest. We advice to travel by public transport.
Openbaar vervoer
Metro 53 en bus 47 stoppen bij Gaasperplas, vlak voor het park. De GVB zet extra metrowagons in.
Metro 53 and bus 47 stop at Gaasperplas right in front of the entrance of the park.
Maatregelen weer / weather adjustments
Op het festivalterrein staan meerdere tenten, mocht het regenen. Alle looppaden zijn verhard en er zijn vlondervloeren gelegd.
There are several tents on the venue for shelter. All walkways are paved and platform floors have been laid.
Mag ik een paraplu meenemen? Can I take an umbrella with me?
Ja. mits dit een opvouwbare paraplu is zonder punt
Yes, however it needs to be foldable without a pointed handle
Munten / Tokens
Eten en drinken betaal je met munten. Munten kun je kopen met PIN, CASH, en Creditcard. Er zijn meer pin dan cash verkooppunten, vergeet je pinpas dus niet. Het is niet toegestaan eigen consumptie mee te nemen.
You need tokens to buy food and beverages. Tokens can be bought with DEBIT CARD, CASH and CREDITCARD.
It is not allowed to bring your own consumption
Wildplassen is ten strengste verboden.
Hou rekening met de natuur in dit prachtige park en help het schoon houden.
peeing outside the toilets isstricly forbidden. Be gentle with nature in our beautiful park and help to keep it clean.