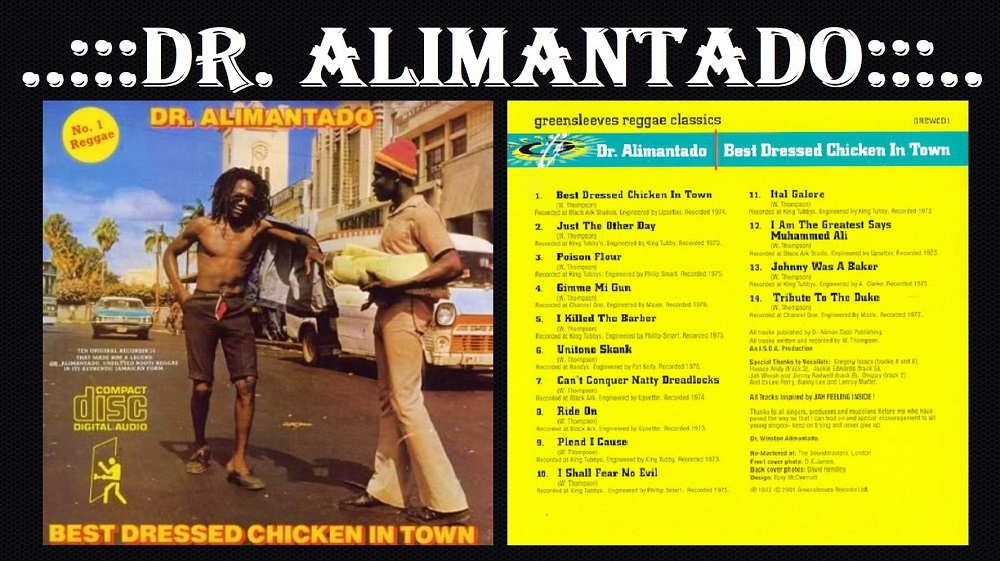 Dr. Alimantado – Best Dressed Chicken in Town. Deze LP was voor mij altijd een beetje een vreemde KIP in de bijt. Daarbij was/is een doktersbezoek nooit mijn favoriete bezigheid. De frontcover door D.K. James lijkt een foto van een camera die per ongeluk is afgeknipt. Een foto waarvan je dan zegt dat die weggegooid mag worden, of …. tsja je kunt er inderdaad ook de voorkant van je allereerste album mee opsieren.
In de jaren 80 had ik dit album in de platenzaak vaak in mijn handen. Eerder uit verwondering dan uit nieuwsgierigheid. Ik heb dus ook nooit aan de platenman gevraagd of ik het een keer mocht luisteren. En dat had ik dus gewoon wel moeten doen.
Dit is het debuutalbum van Dr. Alimantado uit 1977 en is geweldig om te draaien. Prachtige bewerkingen met de precisie van een chirurg, waardoor zowel het origineel als de Alimantado-versie overeind blijven. Deze dokter (geboren in 1952 als Winston James Thompson) bewerkte onder andere grote hits van Horace Andy, Gregory Isaacs en John Holt. Hij is misschien geen wereldbekende superster geworden, maar hij verdient absoluut deze dag-status. Al zou het alleen maar zijn om jullie als lezer te stimuleren om er (weer) eens naar te luisteren.
Door: Raymond Ubbink
Luister iedere donderdagavond van 22.00 tot 24.00 uur naar DJ Mario & Sidekick Raymond op via RTV Slingeland FM Winterswijk.