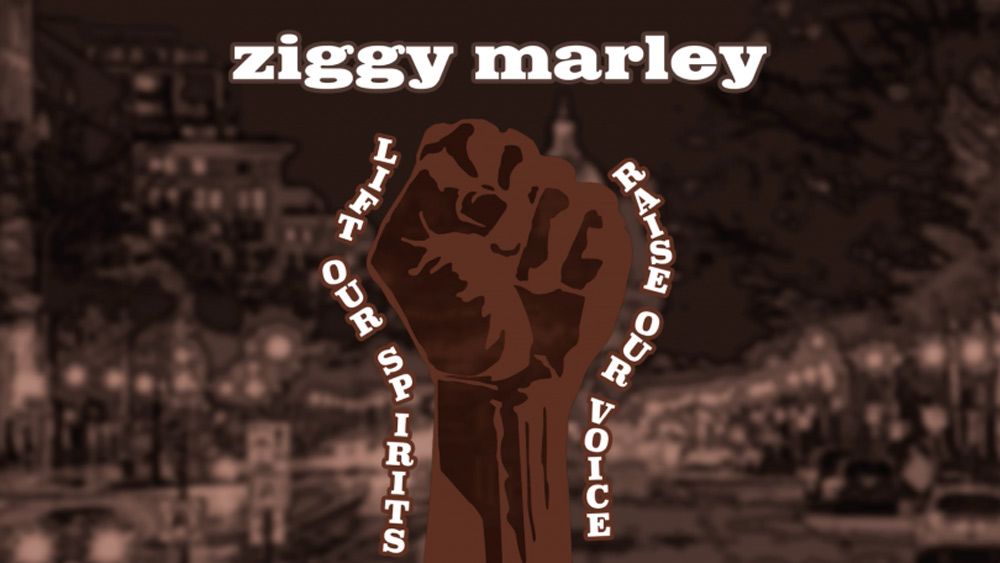 Ziggy Marley has just released a new music video for his latest single 'Life our spirits, Raise our voice'. The tune and video are up now on his YouTube channel! The song was inspired by 2020's political activism efforts around the protests following George Floyd's murder at the knee of a Minneapolis police officer. Ziggy sings, "Lift our spirits, raise our voice, let our hearts beat like the sound of drums! Smoke in my tears, my breath is on fire, hear me say no more crossing rivers."
The video was made at his home in Los Angeles, featuring his two on-stage backup singers, Tracy Hazzard and Natasha Pearce. It was filmed and edited by Tuff Gong Worldwide's Zach Weinberg, with help from Ziggy. | Ziggy Marley – Lift our spirits, Raise our Voice !
Bio
David Nesta "Ziggy" Marley (born 17 October 1968) is a Jamaican musician and philanthropist. He is the son of reggae icon Bob Marley and Rita Marley. He led the family band Ziggy Marley and the Melody Makers, with whom he released eight studio albums. Ziggy Marley also released seven solo albums. Marley is an eight-time Grammy Award winner and a Daytime Emmy Award recipient.
In the earliest known record of his musical career, David Marley performed as part of a singing group called The Seven Do Bees, made up of him and his classmates, and wherein he was given the stage name "Freddie Dic". The name never stuck, however, and instead, David went on to become known as "Ziggy", a nickname often reported to have been given to him by his father Bob Marley, meaning "little spliff". However, Ziggy stated the following to Melody Maker magazine in 1988: "Me name David but me big Bowie fan. So at the time of the Ziggy Stardust album, me call meself Ziggy and now everyone do."